There are four ways you can get involved with Beautycounter:
First, you can become a Client: Vote with your wallet and shop our products and get safer, high-performing products into your life.
Second, you can become a Member: Our Clean Beauty Membership is all about rewards! Members are our VIP Clients who enjoy special perks all year long! As a member you earn 10% back in Product Credit on every order, free shipping on orders over $100, exclusive member only perks. Additionally you will receive our special welcome gift, our "Think Clean Set", (valued at $43 and includes two of our best sellers) when you add at least $50 of products to your cart with your initial membership.
With no auto ships or auto renewal this is a no brainer!
Third, you can become a Host. Whether you host in person or virtually, you'll have the opportunity to share #betterbeauty with your network through hosting a Pop Up. As a thank you for spreading our mission you can earn products for free and 50% off! Reach out to us to schedule your pop up now, as the dates begin to fill up towards to the end of the year.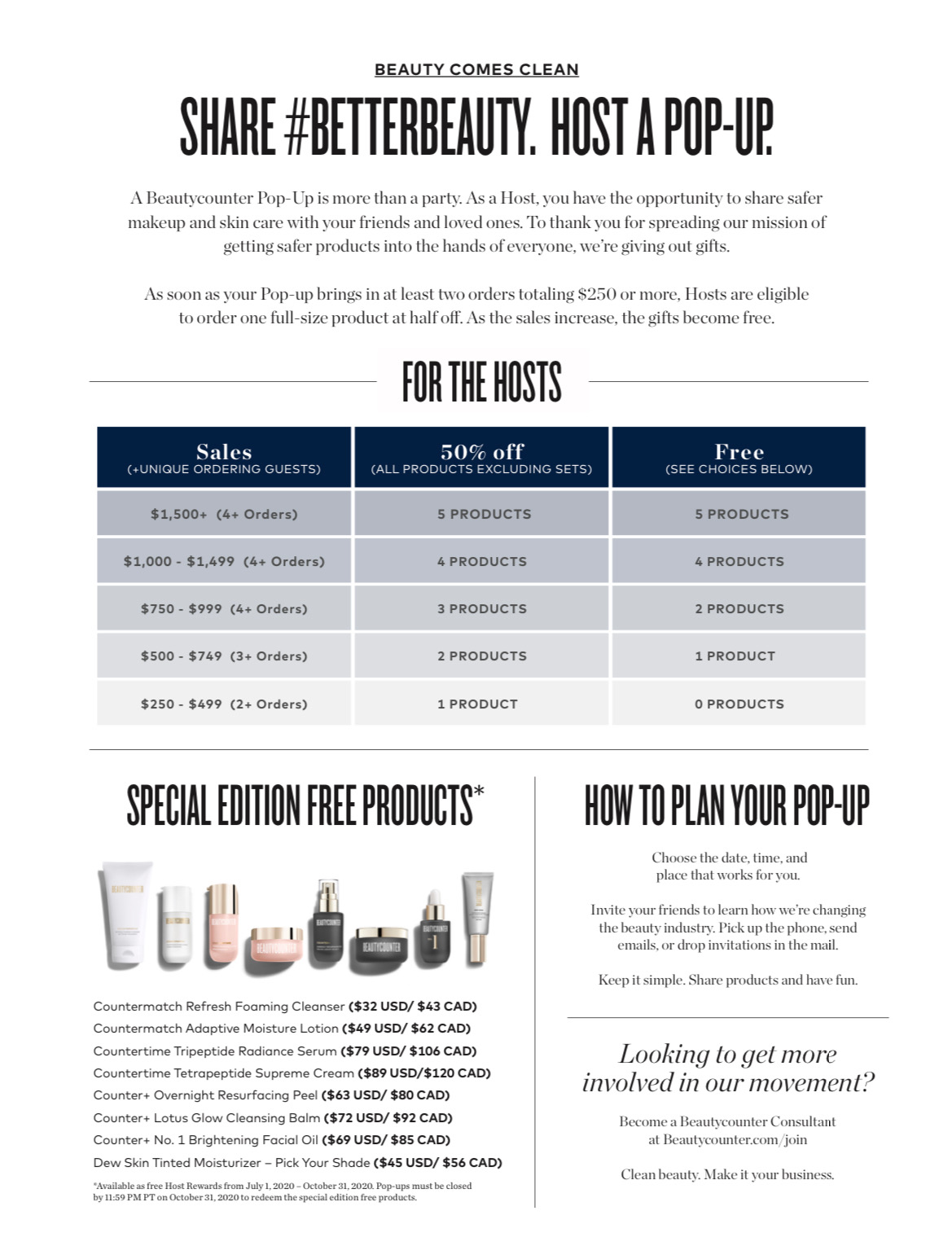 Fourth, the last, and most exciting way, is to join as a Consultant: Be a force for change and lend your voice to our movement. We truly believe our story is best told person-to-person, and our Consultants in both the U.S. and Canada are building their businesses by activating their networks. Flexibility, community, and purpose are just a click away.
Start your Beautycounter business in minutes. As a Consultant, you will earn between 25-35% on anything you sell and you can always purchase products at a 25% savings. Where else can you build a business that is financially rewarding while simultaneously having a significant social impact? Reach out to us today to see if it's a fit for you.